"Discover The Very Secrets I Use
To Earn 6 Figures A Year From
Article Marketing"


Let me just cut right to the chase because I know how you hate
long sales letters.
I've made the bulk of my income online from writing articles and
using them to either build an opt in list, sell products or both.
I average 20 opt ins a day from my articles alone.
That's 600 subscribers a month.
And now...I'm going to spill ALL THE BEANS on how I do it...
So that YOU can also bank 6 figures a year as an article
marketer.
Interested? Then keep reading.
My latest book (Insider Secrets Of An Article Marketing Wiz)
is 71 pages of solid content. I mean there is not an ounce of
fluff in it.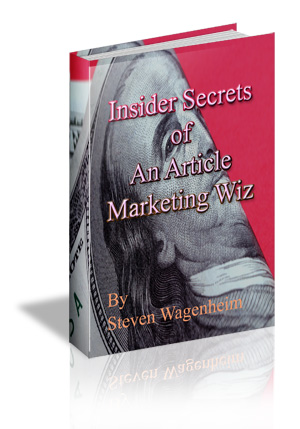 As a matter of fact, I am going to outline the whole book for
you right here...RIGHT NOW.
Pages 5 - 13
Starts right out with some advanced article writing tips
beginning with how to construct absolutely killer titles that
almost FORCE your prospect to read your article.
Pages 13 - 16
Shows, with specific examples, how to write an intro paragraph
that sucks your reader into the article and forces him to
continue reading.
Pages 16 - 21
4 actual examples of article content using a variety of tactics
that all work and can be used to write multiple articles on the
same topic.
Pages 21 - 28
I go over, in complete detail, how I construct a resource box
that gets me a 20% opt in rate for almost all my articles.
Some as high as 50%.
Plus, I personally share over 30 of my own resource boxes so
that you can copy the same style that has generated me
thousands of opt ins and sales.
I'm revealing niches I've never revealed to anybody...EVER.
Pages 29 - 34
I reveal everything you need to know about Ezine Articles. I
cut through all the BS and just give you what's important
including how to get your articles approved with no problems,
where to submit first (EZA or your own blog), when to submit
(the real truth), and whether or not you should get the premium
membership based on reality...not speculation or BS.
Pages 35 - 38
I cover landing pages and how important they are to get
just right. I show you how by showing you my own landing
pages and how I make them work with the right resource
box. This is probably more important than the article itself
if you're going to get opt ins or make sales.
Pages 38 - 65
This is probably the best part of the book...how to drive
traffic to your articles.
But not only that, I show you a wayto get your articles on sites that are NOT article directories and have even higher PR rankings than Ezine Articles.
This is a trick that I've been using for years. I've shared
it with nobody and I have yet to see ONE ARTICLE WRITING
AND MARKETING BOOK even touch on this.
This part of the book alone is worth the entire cost of the
book. It will RADICALLY change the way people go about
doing their article marketing.
It may even make articledirectories an endangered species if these tactics catch on enough.
If you know what's good for you...don't share this stuff with
ANYBODY. I'm dead serious, because this is pure out of
the box thinking.
Pages 66 - 70
This is my FAQ section with the most commonly asked
questions that I get.
But...here is the best part of this section of the book.
Everybody who gets a copy of this book will get to send me
an email with ONE question that they want answered that
ISN'T covered in the book.
When I finish getting and answering all the questions, the
answers will be included in the FAQ section and a new copy
of the book will be sent to EVERYBODY WHO GOT ONE.
At NO EXTRA CHARGE.
This could easily turn into a 100 page plus book by the time
it is all done.
Now, there is something I need to make perfectly clear about
this book so please READ THIS CAREFULLY.
This is NOT a basic book on article writing and marketing. It
is an advanced book. That means that the basic things that I
covered in my "Complete Article Writing and Marketing Guide"
are NOT in this book.
In other words, if you don't have a basic understanding of
article writing and marketing, this book is going to be WAY
OVER YOUR HEAD. Therefore, I advise you NOT to get it.
Okay, so how much is this going for?
I could easily sell this book for $97 and it would be a steal. After all...these tactics have earned me a 6 figure income WITHOUT having to spend a dime on advertising.
But it's not going to cost you $97 or $67 or even $47.
I'm letting this go for the insane price of just $37.
But don't wait...because this price will NOT last long.

Yes Steve! I Want to Become An Article Marketing Expert!
I want to be able to dominate any niche with article marketing and NOT have to spend countless thousands on costly PPC!
I understand that I will be instantly downloading this manuscript in PDF format and I have 60 Days to evaluate it.

I also understand that if I am not completely thrilled with this package, I can return it for a FULL REFUND.
Click Here To Instantly Download